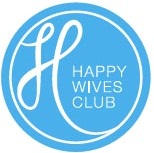 Around the time when I was just beginning to discover all kinds of great blogs (and Something Ivory was not even a twinkle in my eye) I came across a fun blog called the
Happy Wives Club
. This was when I was engaged and planning our wedding. At the time I couldn't get enough of books, articles, stories, and blogs relating to marriage. In our world today, marriage is not always respected (to put it lightly). I was young and didn't have any other married or engaged friends, and I think I hungered to surround myself with the words and ideas of people who were passionate about their marriages--how they made it work, how they lived as godly husbands and wives, and how beautiful their journey was (no matter how hard it got).
For me, this habit came partly out of pure pleasure and enthusiasm for the huge life change I was about to undergo. But a big part of it was grounded in my belief that it's important to prepare for marriage, to plan for marriage, in the same way I was planning the wedding. I felt it was important to use my engagement as a time of learning and reflection and prayer, so that I might be better prepared to serve Him in my marriage and better prepared to act as the godly wife I knew I wanted to be.
Anyway, the Happy Wives Club was one of the places I went to think and learn. So I was very excited when Fawn, the gal behind the blog, put out a call to all bloggers interested in contributing to the newly re-worked Happy Wives Club. She is launching it as more of a website than a blog, with special themed categories and blogger contributors. I applied to write a monthly food post and I was very happy to hear that I was accepted! I don't know much more than that right now, but I will keep you posted. I'm hoping to be able to sneak in a few thoughts on marriage (after all, I'm one of the happy wives in the club!) in between ingredient lists and cooking instructions.
Until then, check out
Fawn's blog
! And join the club--I know there are a lot of happy wives who read Something Ivory.